Media Contact:
Sarah Crouch
612-860-0864
sarah.crouch@archfieldoffice.com
Momentum Grows for a Lid over I-35W in Downtown Minneapolis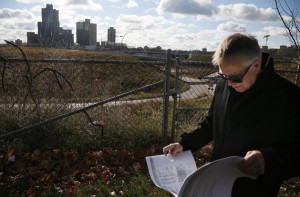 November 23, 2014 — The Star-Tribune profiles a proposal by Mic Johnson, FAIA – developed by a University of Minnesota School of Architecture urban design studio and the Metropolitan Design Center – to lid I-35W in Minneapolis' Downtown East with green space. The concept also proposes developing 14 parcels of currently underutilized land adjacent to the 17-acre lid with residential, commercial, educational, civic and cultural uses – thereby bolstering the city's tax base, increasing density with family-friendly amenities and services, and improving urban connections and livability.
Mercy Health – West Hospital is named ENR Midwest "Best Project of the Year"
Also recognized as Best Healthcare Project of 2014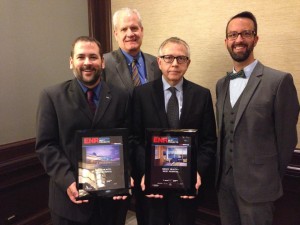 November 20, 2014 – Mercy Health – West Hospital received dual honors at this morning's ENR Midwest Best Projects Awards breakfast in Chicago. The Cincinnati community hospital was named the "Best Health Care Project of 2014" and then recognized with top honors as "Best Project of the Year."
A panel of 6 judges, representing a variety of industries, evaluated dozens of entries on the basis of quality, innovation, safety, community impact and the ability of the project teams to overcome unique challenges. In all, projects were honored in 18 categories, ranging from health care and higher education to transportation, renovation and specialty contracting.
Accepting the awards were (from left) Steve Swisher, representing construction manager Turner Construction; Larry Bagby, Mercy Health's director of facility construction; Mic Johnson, FAIA, lead designer; and Mike Murphy, AIA, representing architect of record Champlin Architecture.
All winning projects will advance to the next stage of competition, against winners from other regions in ENR's national Best of the Best Projects 2014 awards program.
One-of-a-Kind Brick Façade of Mercy Health-West Hospital Recognized as "Best in Class"
Receives highest honor in healthcare category from Brick Industry Association
Mercy Health – West Hospital in Cincinnati was honored with a "Best in Class" award for healthcare in the 2014 Brick in Architecture Awards, a competition that recognizes the best in brick design across North America. Designed by AECOM with Mic Johnson, FAIA, lead designer (Minneapolis), architect-of-record Champlin Architecture (Cincinnati), and built by Turner Construction Company (Cincinnati), West Hospital was one of nine projects receiving top honors.
As a new, 250-bed community hospital, one of the primary design goals was to create a landmark building, of its place and community. To achieve this, designers were inspired by Ohio's long tradition of art pottery production, and envisioned creating a one-of-a-kind exterior expression that pays homage to this local art form.
The development of the system and color matrix was explored starting with painted architectural scale models, moving to a full-scale mock-up made from foam core and hung on the side of a parking garage at the client's offices, to large-scale computer-generated prints of the pattern, and finally, full-scale mock ups of the actual materials. The finished façade is composed of 11 colors and 19 shapes of glazed thin bricks, arranged in an artful composition that is reminiscent of ceramic tiles.
The thin bricks are made of Ohio clay and were locally manufactured by Metro Brick. They were glazed and fired by ceramic artists at Trikeenan Tileworks and then transported to High Concrete, where the bricks were hand placed into forms, and finally cast into insulated precast concrete panels that are hung on the exterior of the building.
The blue-to-green color palette of the glazed brick was inspired by ceramics glazes, and the landform and color of the site – connecting the building with its place. When taken in the context of the sky and landscape, the architecture continually provides a new experience, changing with the quality of light, the time of the day, and the seasons. The aesthetic and technical approach to the distinctive façade is now being replicated on other Mercy Health facilities, supporting the organization's objective of providing a consistent experience for patients, family and staff system-wide.
The full list of winners is available on the BIA's website.
Mercy Health-West Hospital featured in Healthcare Design magazine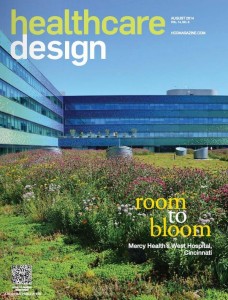 Cincinnati's new Mercy Health – West Hospital is the cover story in the August 2014 issue of Healthcare Design magazine, "Mercy Health Goes Bold and Beautiful." Designed by our Mic Johnson in association with AECOM and Champlin Architecture, this new 250-bed hospital brings new services and quality care to a growing community, and differentiates Mercy Health in a competitive healthcare marketplace.  The issue also included two stories about the hospital's most unique features, its 2.5 acre green roof ("Room to Bloom at Mercy Health") and its one-of-a-kind brick tile façade ("The Making of an Exterior at Mercy Health West").
Bridging the Trench, Creating Connected Communities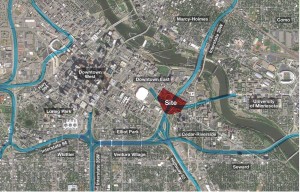 August 6, 2014 – In Fall 2013, Architecture Field Office principal Mic Johnson, FAIA guided 12 graduate students in reworking a 24-block area on the east side of downtown Minneapolis. The study area looked at undeveloped land surrounding the I-35W and 4th St. S/Washington Avenue interchange. In its current state, most of this land is freeway embankment, creating a chasm between the Downtown East and Cedar Riverside neighborhoods.
The primary challenges were to overcome the significant topographical changes throughout the site, connecting it to several levels of transportation and creating an environment in which people would like to both live and work… in other words, to create a complete neighborhood. Reaching a certain level of residential density drove the buildings taller, especially around the open green space that was created by capping the freeway with an extensive green roof system. By establishing building heights and setbacks that define the public realm and shape street rooms the new development reinforces human scale, shapes social space and promotes environmental responsibility.
This project, sponsored by the Metropolitan Design Center at the College of Design, bridges the gulf that I-35W created between the University of Minnesota and downtown Minneapolis. It shows how we can do this without public funding, returning 11 blocks of taxable real estate to the city, utilizing the air rights above the highway to generate revenue for the state, and creating public parks and district parking for a whole new neighborhood. In place of a vast amount of unused open space around the highway, this plan creates a family friendly community for roughly 5,000 residents as well as office and research space for businesses that benefit from proximity to the University and from easy access to both light-rail lines as well as Interstates 35W and 94.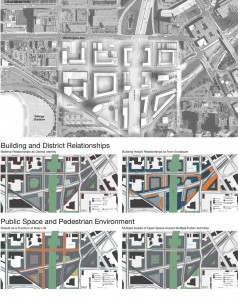 The plan keeps the highway functioning as it does now, spanning the traffic lanes with a series of easily installed vierendeel trusses that support the car parking and public park above. And it turns marginal land around the highway into highly desirable property around open space and a re-established street grid. The plan also creates a covered light-rail station that will allow passengers to change trains out of the rain.
Mic Johnson, FAIA will present the proposal at the August meeting of the Think Again MN  Stone Arch Discussion Group, on Saturday, August 9 from 8:30-10:00am at the Gardens of Salonica restaurant in northeast Minneapolis. The event is free and open to the public.
Read the MinnPost coverage of the proposal, "A Plan to Stitch Minneapolis Together Again," by Marlys Harris
Mercy Health – West Hospital Recognized for Design Excellence
April 30, 2014 – The design of the new 645,000-square-foot Mercy Health-West Hospital was recognized with a First Place award in the Healthcare category in the International Interior Design Association (IIDA) Northland chapter FAB Awards.
As the centerpiece of Mercy Health's network of care on the west side of Cincinnati, the new hospital features 250 private patient rooms, with centers of excellence in cardiac care, cancer care, orthopedics,  women's health, as well as a family birth center. Planned and designed to positively impact every aspect of the patient and family experience, the building allows Mercy Health physicians and staff to provide the best comprehensive care in an environment that celebrates community, human dignity and health.
Jury members recognized the project's strong connection between architecture, interiors and natural light, realized through the use of skylights and expansive windows that provide views to gardens and nature. They also praised its modern aesthetic, and the use of color and natural materials, which together impart a sense of quality and permanence while promoting a restorative and positive healing environment.
"This project was designed to seamlessly integrate architecture, quality healthcare and its context, resulting in an expression that is unique to this place, to Mercy Health and to the community they serve," said Mic Johnson, FAIA, lead designer. "As it sits in this landscape, the building comes alive. Each day, light moves around the building, the seasons are changing, the façade changes, and the quality of light in interior spaces changes – so it's not static. This building is about life – and the people inside it are about giving life. And that's what's really exciting: making a building that responds to its purpose in all ways."
The project was designed by a team of AECOM with Mic Johnson, FAIA, lead designer, in association with Cincinnati-based architects of record, Champlin Architecture. Turner Construction Company served as construction manager.
Representatives from the design team accepted the award at a gala held April 17 at the McNamara Alumni Center at the University of Minnesota.
Mic Johnson Named Metropolitan Design Center's Interim Director
Minneapolis – February 19, 2014 – Mic Johnson, FAIA, founder and design principal of Architecture Field Office, has been appointed interim director of the Metropolitan Design Center (MDC) at the University of Minnesota College of Design. The MDC is an emerging design and research-based institution conceived to facilitate an environment for creative thinking and public engagement around urban and metropolitan design.
Over his 35-year career, Johnson has held design leadership roles at large international firms and teaching positions at several universities, including the College of Design School of Architecture. With experience ranging from the design of significant healthcare facilities to urban towers, he is dedicated to creating architecture and environments that enhance the human experience for both building occupants and the broader community.
Johnson sees his new role as, "a great opportunity to bring the College of Design's resources and research to the community through forward thinking and innovative ideas that can transform the very nature of how a city serves its constituents." He will hold the interim position part-time while maintaining his Minneapolis-based design practice.
Mercy Health – West Hospital Combines Beauty and Functionality to Enhance Healing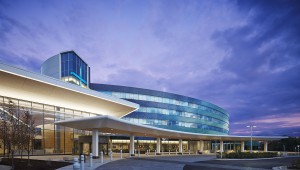 Cincinnati – December 11, 2013 – The new Mercy Health – West Hospital, a new 250-bed, 625,000-square-foot facility, opened to offer expanded medical services to Cincinnati's west side at its location along the I-74 corridor.
Designed by AECOM and Mic Johnson, FAIA, in association with Cincinnati-based Champlin Architecture, the new West Hospital at 3300 Mercy Health Boulevard takes a new approach to health care architecture, balancing beauty, culture and function to set a new standard for hospital design. Connections between architecture, natural light and landscape promote healing and root the building in its place, while the hospital's functional planning is grounded in evidence and focused on maximizing safety, efficiency, energy conservation and flexibility for the future.
Located on a 60-acre, wooded site, the hospital's large diagnostic and treatment base is designed to co-locate surgery, imaging, the emergency department and cardiovascular ICU on one level for greater efficiency between care teams. Two bed towers sit on this interventional platform, which features a living roof covered with native plants – providing an ever-changing view from the patient rooms above. At 2.5 acres, this is the largest green roof in Ohio, and is punctuated with skylights and light wells that bring natural light to staff work areas within the base. Accessible gardens are located adjacent to the front door and at the dining terrace on the lower level. In addition, a rehab terrace for physical therapy is located on the third floor, overlooking the green roof.
The design gives the new hospital a unique presence in its community. Inspired by Ohio's tradition of art pottery production, the building features a one-of-a-kind exterior wall system – comprising 11 different colors and 19 shapes of glazed brick tiles. The blue-to-green color palette of the building skin pays homage to traditional ceramics glazes, as well as the landform and color of the valleys and hills of the region, merging architecture and landscape throughout the seasons.
Transparency between interior and exterior provides continuity through the hospital to support the patient and family experience. Ease of wayfinding from the front door to reception and waiting areas as well as public amenity spaces reinforces the healing process through the presence of natural light and landscape.
"Mercy Health – West Hospital was designed with many features that have been proven to enhance the patient's experience during a hospital visit. Studies show that even brief exposure to nature and natural light improves patients' moods and shortens lengths of stay," said Yousuf Ahmad, president & CEO, Mercy Health.  "This building is an important reflection of our commitment to bring world-class care to the communities on Cincinnati's west side."
All patient rooms are private, and a combination of centralized and decentralized nursing helps keep nurses closer to patients. Family-centered care rooms allow patients' loved ones to play an active role in the healing process and sound-proofing treatments reduce noise and offer a calmer environment. Expansive windows with low sills within patient rooms and family lounges further promote healing via views to nature and access to natural light.
Many steps were taken to make the new hospital functionally efficient. The building's fundamental infrastructure planning is flexible to accommodate future changes in medical practice. Fully equipped, physical mock-ups were developed to test each major technical room for functionality, safety and aesthetics, and detailed planning decisions were based on best practices to limit customization for specific building users.
Functional and aesthetic considerations are seamlessly merged in the new West Hospital, creating a healing environment that is unique to the southern Ohio region. With a design focused on the patient and family experience, the building allows Mercy Health physicians and staff the opportunity to provide the best comprehensive care in an environment that celebrates community, human dignity and health.
PROJECT DETAILS
Design Architect: AECOM with Mic Johnson, FAIA, Lead Designer
Architect of Record: Champlin Architecture
Interior Design: AECOM
Landscape Architect: Close Landscape Architecture with Meisner + Associates/Land Vision
MEP Engineer: Heapy Engineering
Low Voltage and Structured Cable:  Dynamix Engineers
Structural Engineer: THP LTD
Civil Engineer: Thomas Graham Associates
Equipment Planning: AECOM
Lab Planning: Mortland Planning and Design, Inc.
Elevators and Material Management: Lerch Bates
Graphics and Way finding: Kolar Design
Construction Manager: Turner Construction Company
Photographer: Dave Burk © Hedrich Blessing
Bold, Bright and Branded
New Mercy Health – Rookwood Medical Center Brings Emergency Care to the Community Setting
CINCINNATI – August 13, 2013 – Mercy Health celebrates the completion of the Rookwood Medical Center, a new 26,000-square-foot freestanding emergency department and outpatient center located on a highly visible site along the Interstate 71 corridor north of downtown Cincinnati.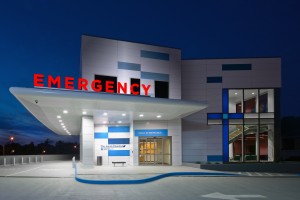 This is the first of several facility expansion and renewal projects undertaken by Mercy Health in collaboration with architect Mic Johnson, FAIA; each of these projects combine architecture, context and culture to enhance the delivery of care, and transform the patient and caregiver experience.
According to Johnson, "The Mercy Health – Rookwood Medical Center demonstrates how healthcare architecture can equally serve provider, caregiver, patient, family and community needs. The building design capitalizes on its prominent site with a colorful exterior that reflects the Mercy Health brand and provides a memorable image for the thousands of people who pass by every day. At the same time, a plan that is highly functional and grounded in evidence supports staff comfort and safety, and allows them to provide excellent care to the people of Cincinnati."
At the street level, transparency and a brightly lit and intuitive entry sequence engages patients and the community, providing a new edge for the neighborhood. The overall aesthetic is comfortable and welcoming to patients, family and staff alike, imparting a sense of beauty, delight and presence.
"The new Rookwood Medical Center wraps easily accessible quality care in a memorable exterior," says Yousuf J. Ahmad, President and CEO of Mercy Health. "The project reinforces the Mercy Health brand and vision of making healthcare easy by bringing emergency services into the community so residents can get the help they need in minutes, not miles."
The design concept for the Rookwood Medical Center was developed by Mic Johnson, founder of Architecture Field Office, while design principal with AECOM. The project was subsequently delivered via a design/build process led by the Cincinnati offices of Skanska and GBBN Architects. The Rookwood Medical Center opened to patients on July 2, 2013.
Mic Johnson Named Fellow of American Institute of Architects
MINNEAPOLIS – June 25, 2013 – Mic Johnson, founder and design principal of Architecture Field Office, is one of 122 individuals elevated in 2013 to the American Institute of Architects' College of Fellows.
With a body of work comprising more than 15 million square feet of institutional and corporate buildings throughout the United States and globally, Johnson was recognized for his advancement of client and community aspirations through design excellence. Over a 35-year career that includes design leadership roles at large international firms and teaching positions at several universities, Mic has focused on creating buildings that are successful and vibrant contributors to the communities they serve.
These projects include Target Plaza South and 900 Nicollet in downtown Minneapolis, the renovation of Coffman Memorial Union and the Washington Avenue Pedestrian Bridges at the University of Minnesota, and the expansion and modernization of the Minneapolis campus of Children's Hospitals and Clinics of Minnesota. Globally, he has served as lead designer for four large-scale teaching hospitals: Yonsei University Medical Center, a 1,000-bed teaching hospital in the heart of densely populated Seoul; Samsung Cancer Center, the largest cancer center in Asia; the University Hospital in Dubai, created in partnership with Partners Harvard Medical International; and the King Khalid Medical City in Saudi Arabia, a new healthcare city anchored by a 1,500-bed hospital.
The Fellowship program was developed to elevate those architects who have made a significant contribution to architecture and society and who have achieved a standard of excellence in the profession on a national level. Johnson was formally invested in the College of Fellows on June 21, 2013 as part of the AIA Convention in Denver.